When a Fund is set up, the ATO sometimes initiates an audit on the newly established SMSF.
When we set up a new SMSF with the Tax Office, the ATO generally does a comparison between the data that we entered as part of the Application compared to the Trustee's details on their end.
Sometimes, due to a typo or other errors, the information that we entered may not match the info on the ATO's records. These discrepancies may result in a manual intervention by the ATO. It can then take up to 28 days for the ABN of the new SMSF to be released. For more details on the set up times, please click on the button below:
Furthermore, after the ABN of the Fund has been issued by the ATO, the Tax Office may do a review on the Fund as well as the Trustees in the Fund. The objective of the review is to ensure that the associates of the SMSF do not have any ATO compliance issues for example:
Outstanding personal tax returns
Involvement with another SMSF whose tax return has not been lodged up to date
Previous involvements with companies or individuals that have been declared bankrupt
If the Trustees have any outstanding ATO compliance issues, an ATO audit might be triggered.
Next steps if there is an ATO audit on the SMSF

Generally, the ATO will first withhold the ABN of the Fund. Once the ABN of the Fund is withheld, the Fund is unable to accept any rollovers. On the Super Fund Look Up website, the ABN of the Fund will appear per the print noted below: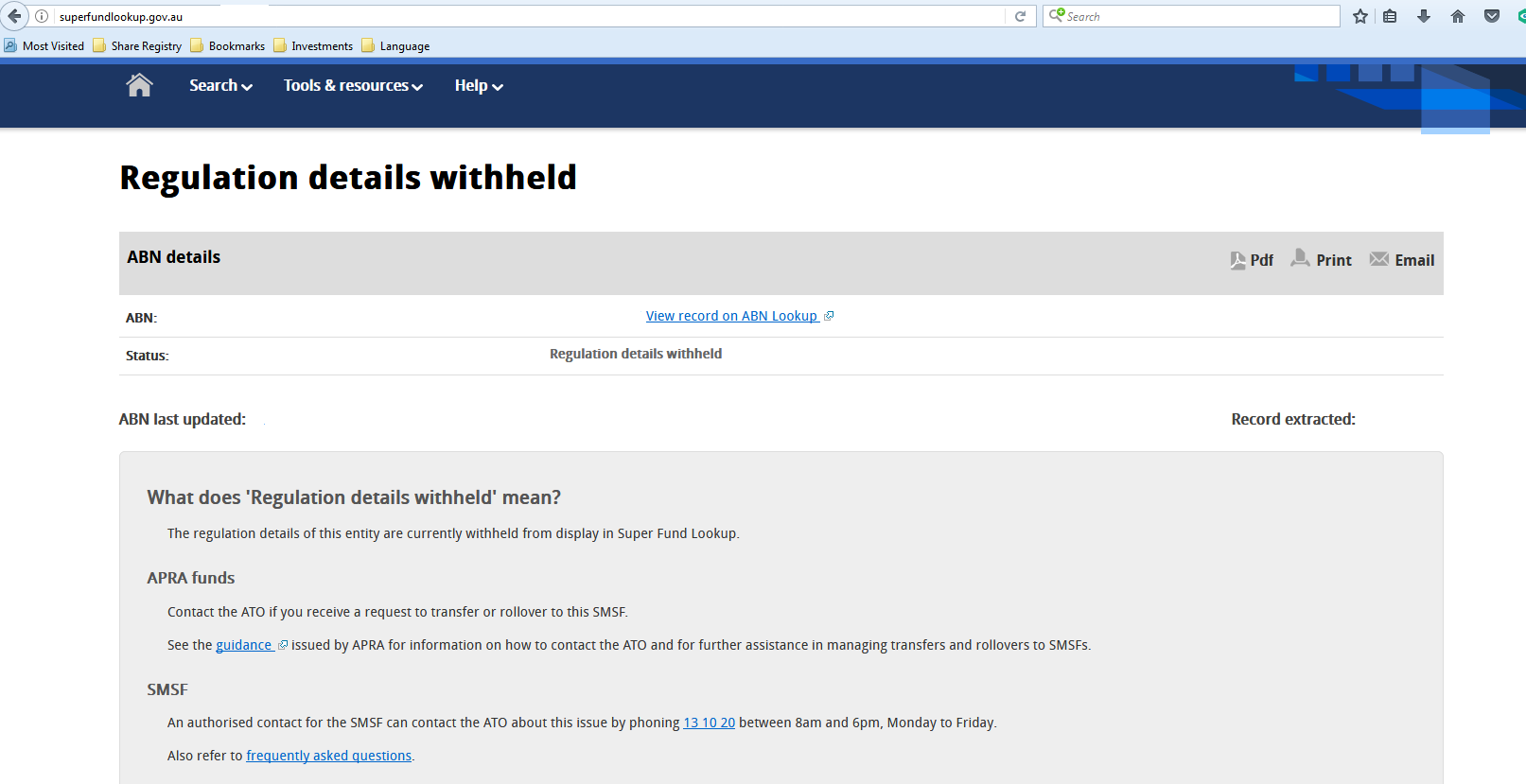 An ATO officer may then be assigned to the Fund and a notification letter is sent to the Trustee. For a sample of the notification letter, please click on the button below:
If a letter is issued, the Trustees will be required to arrange for a Trustee interview with the ATO. The purpose of the interview is to test the Trustee's knowledge of the responsibilities of being a Trustee. To prepare for the interview, Trustees can choose to conduct a free online training here.
How we can help
If we are the accountant for your Fund, we will assist you with the ATO audit process without an additional charge. We will draft a response letter to the ATO officer and assist you in collecting all of the supporting documents required by the audit notification letter. If Trustees are satisfied with the response letter that we drafted, we will contact the ATO officer on behalf of the Trustees and send them the required documents.
What happens after an ATO audit
The objective of the ATO audit is to display the status of the Fund as a complying SMSF. If the ATO identified potential issues, they will come to one of the following decisions (click to expand):
To minimize the chance of an ATO audit, Trustees should ensure that their personal tax affairs are current before setting up an SMSF. To proceed with the SMSF set up, please click on the button below: